Tristin BP


Black Colt born 5-2-06


SOLD, Congratulations to Kathleen of Sweden


pfc Trevallon X Jafars Shania (Ravvens Jafar)
This colt has the most exotic head we have ever bred. He has an extremely dishy head and is very tall and has beautiful movement.
He has a long upright neck and a fine throatlatch. He will captivate you at first sight through the rails of his stall. He is solid black except for a small white cap on a rear foot.
He was just selected Top Five at the Region IV Arabian Breeders Sweepstakes class in Salem Oregeon in June 2007.

Tristin is now at home in Sweden with his new owner at Black Arabians of Sweden.
He was just named Champion Colt, Most Classic Head and Best in Show at a show in Finland.

New photos of Tristin taken 3-2013 in Italy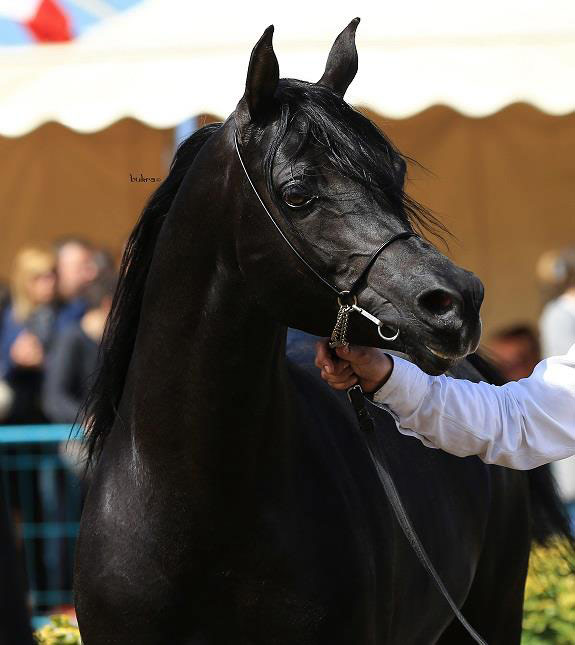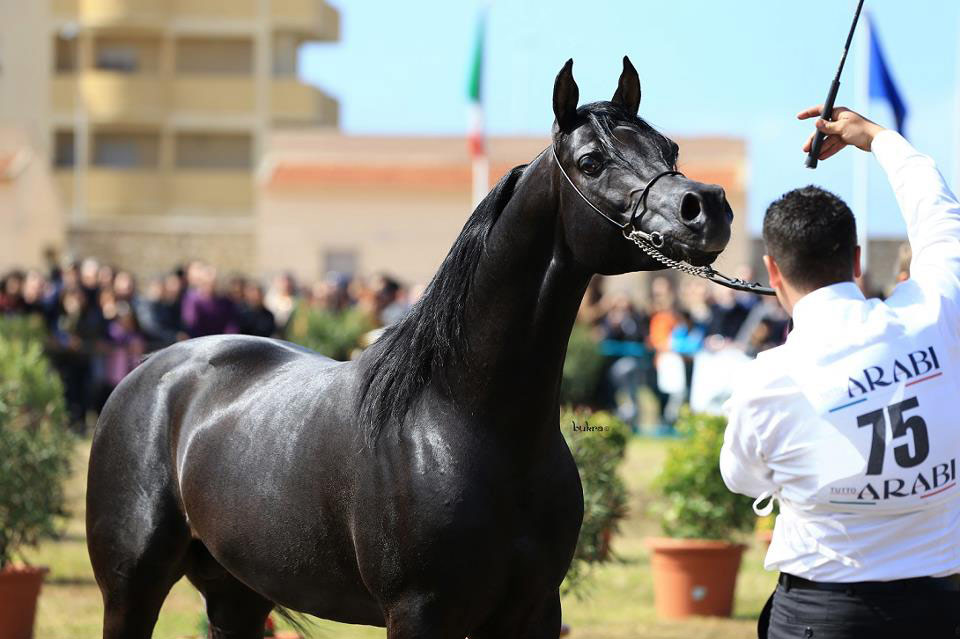 Photos of Tristin taken 10-6-07 (Mansfield photos)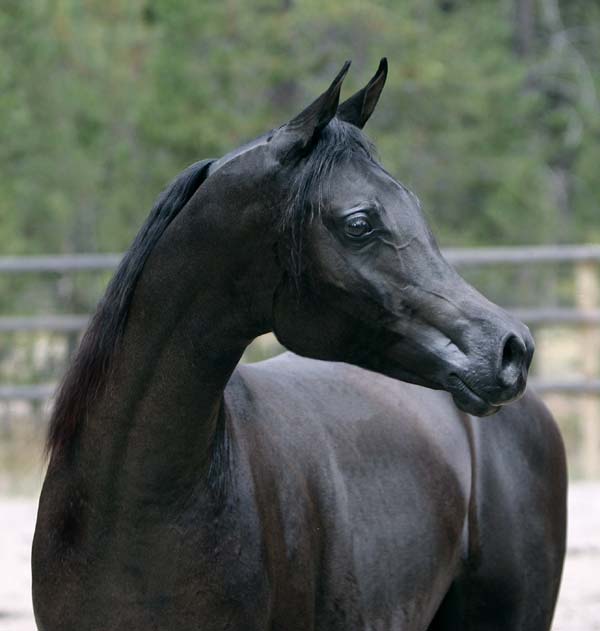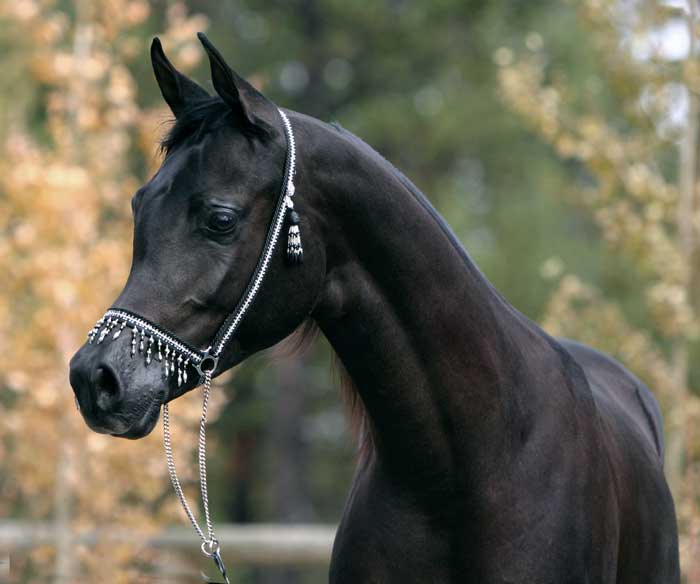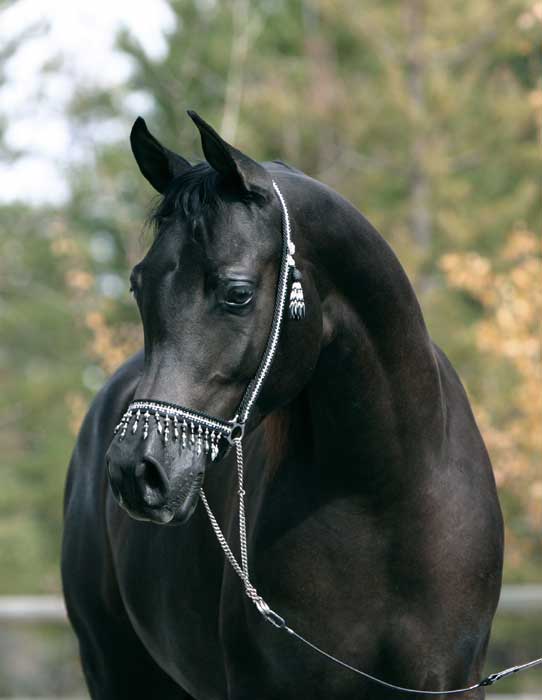 At 14 months old ... (photos by Jeff Little)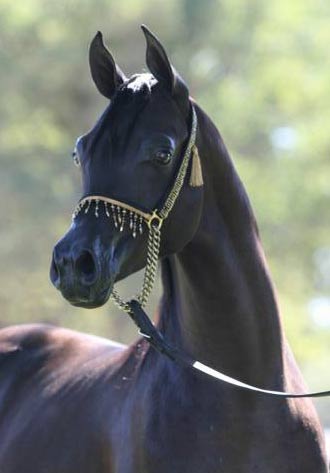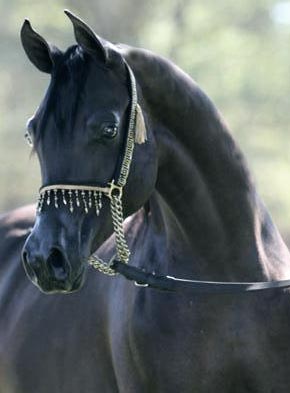 At 10 months (taken 3-11-07)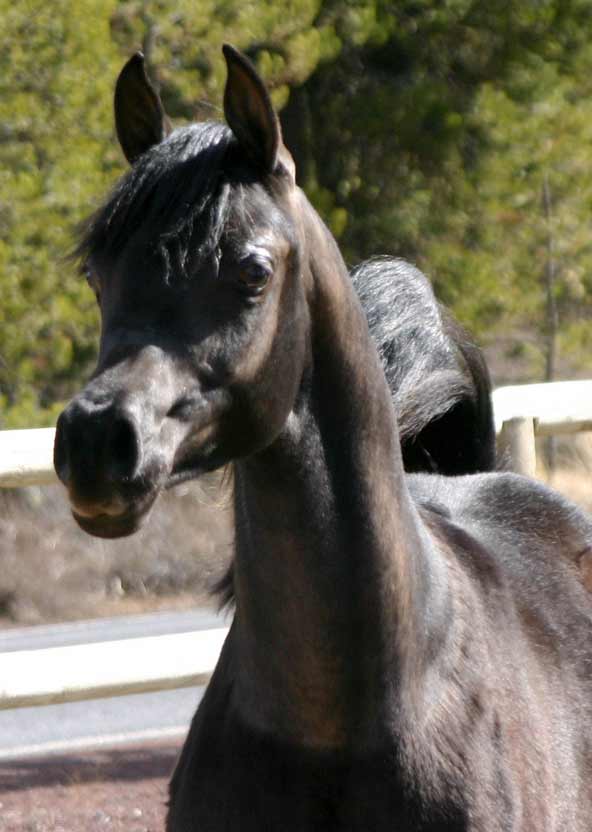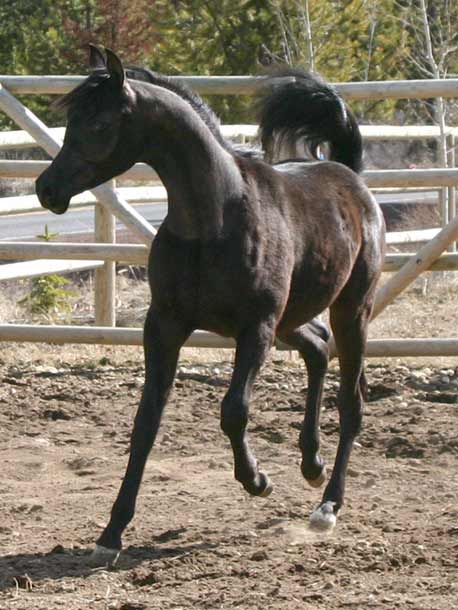 At 9 months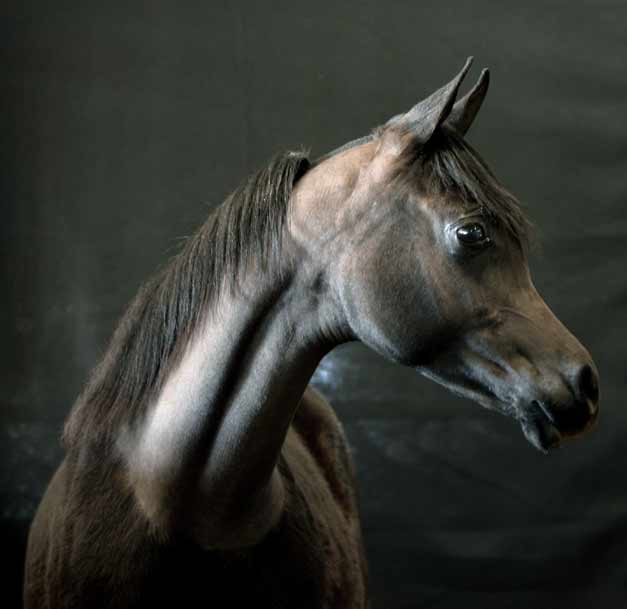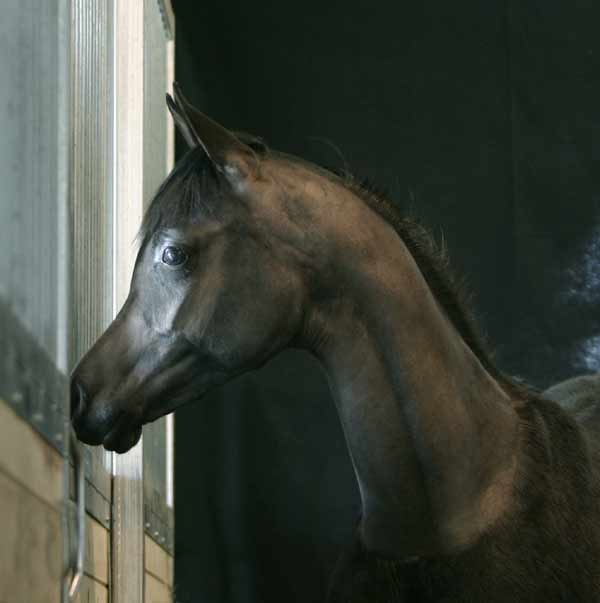 Ravvens Jafar, Grandsire of Tristin BP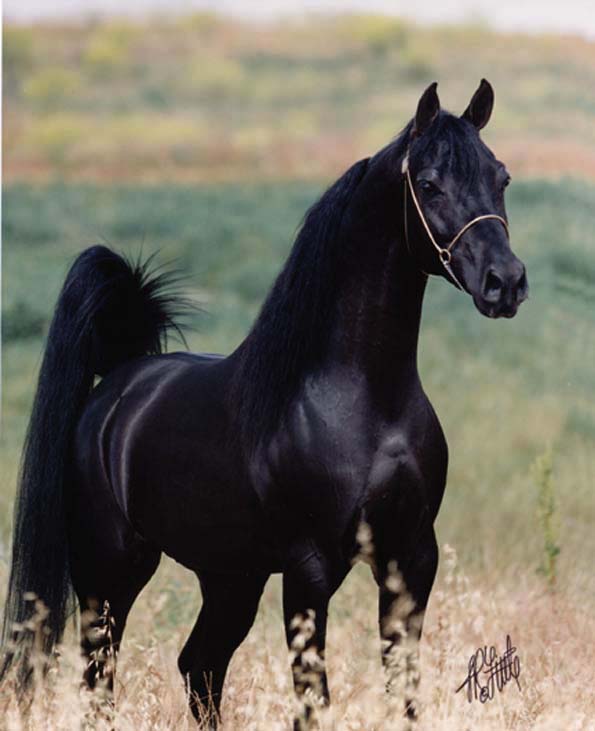 Triton BP
born 4-20-08
pfc Trevallon X Jafars Shania (Ravvens Jafar)
Owned by Tomas Simko of Slovakia

This outstanding
homozygous
black colt is out of a Shania, a black Jafar daughter.
His head is exotic: short, with an extreme dish with wide set eyes. He has a long upright neck and
a beautiful body and has extreme movement and a beautiful suspended trot. He is a
full sibling to Jasmine, Tristin and Tiberius. This colt 's head alone will capitivate anyone.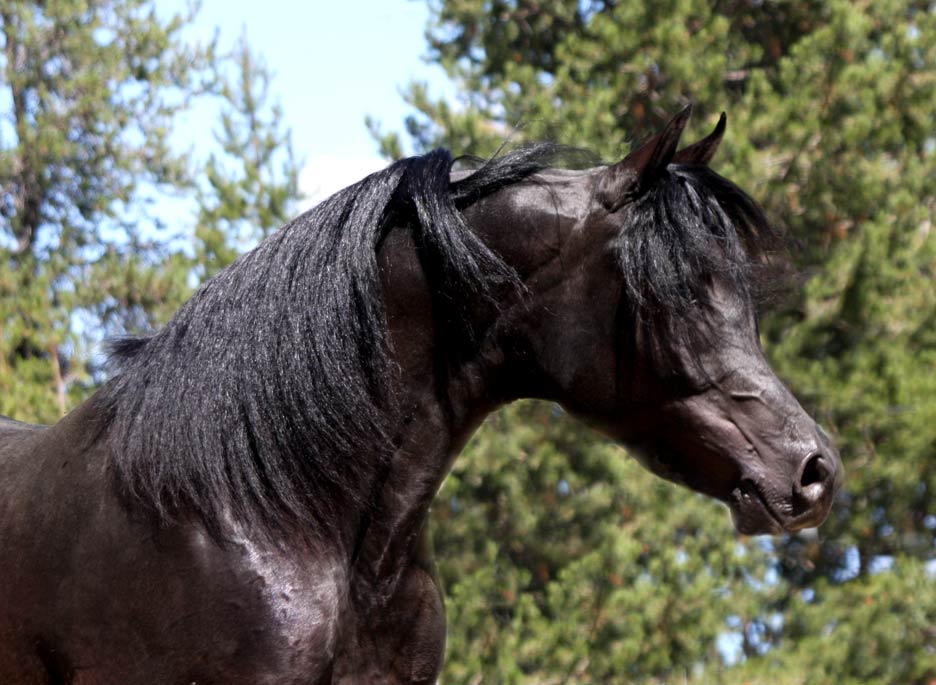 Photos taken 9-13-09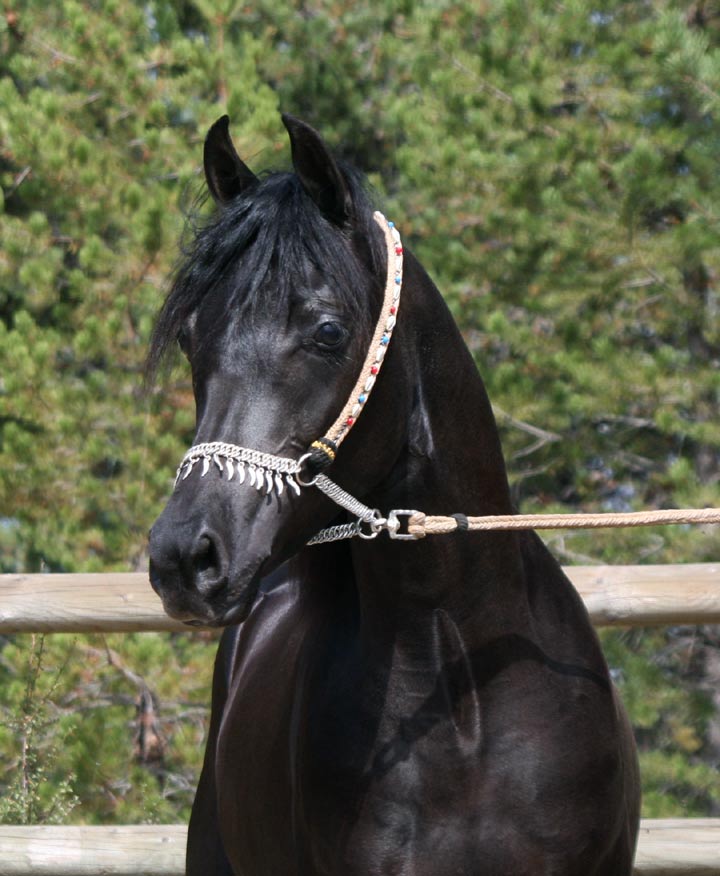 Photo taken 8-28-09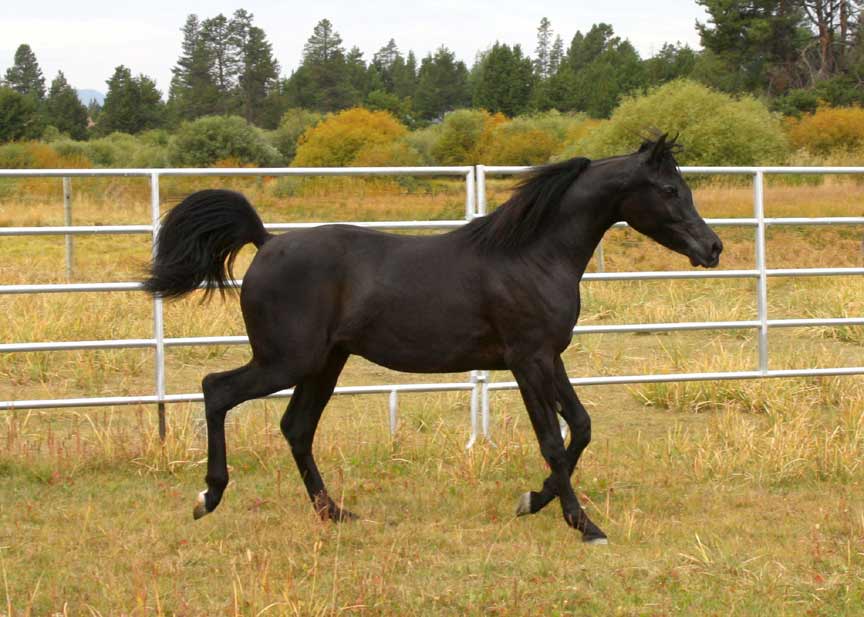 Photos taken 7-1-09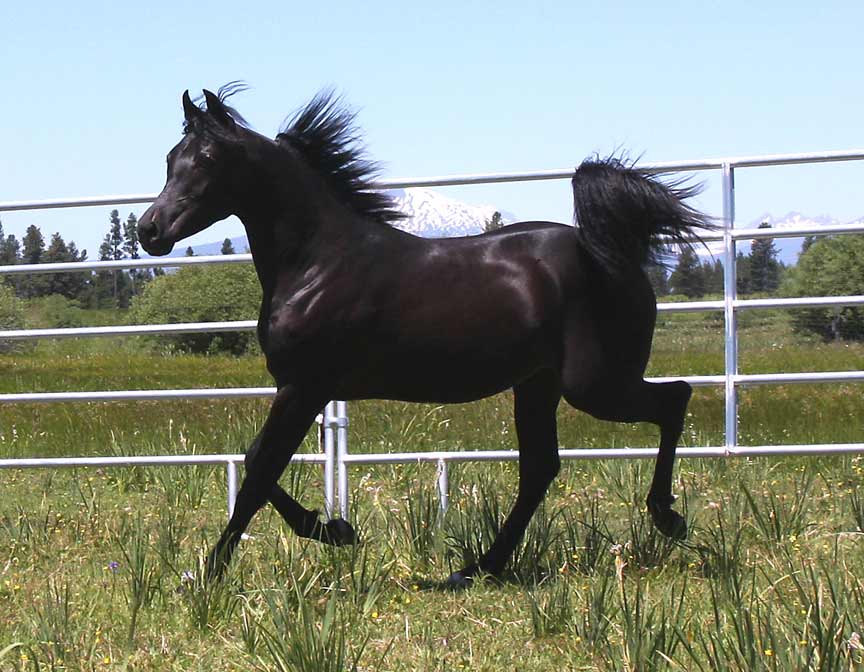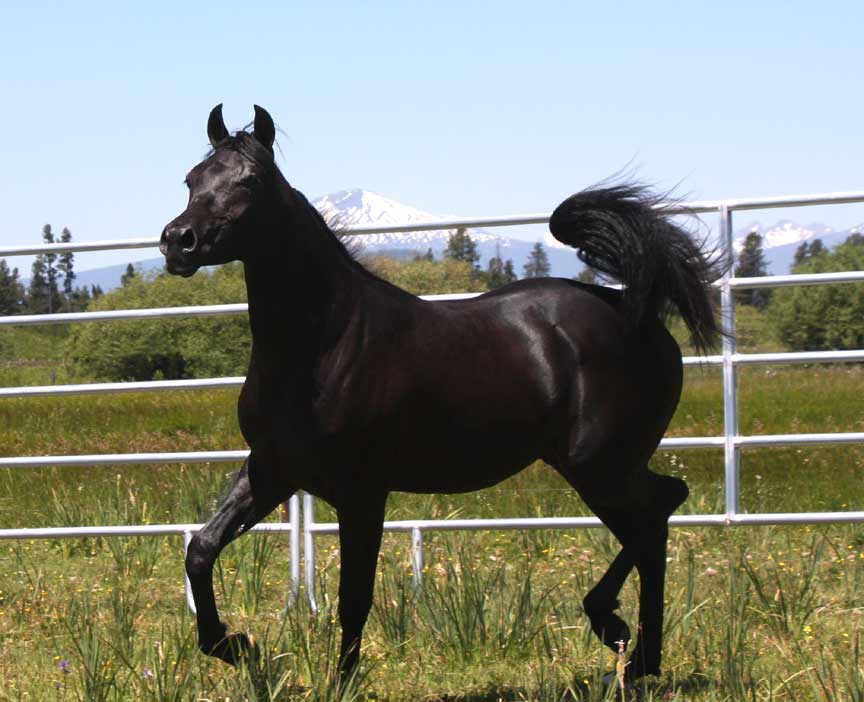 Photos taken 7-31-08 at 3 months old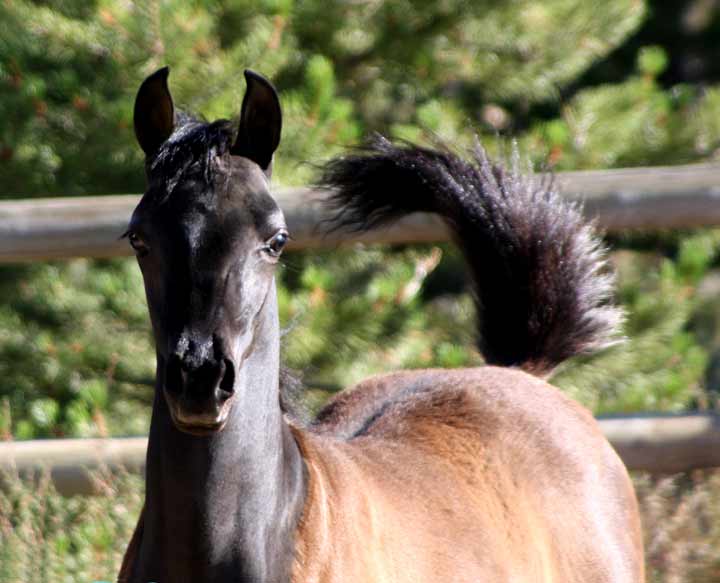 Photos taken 6-1-08 at 40 days old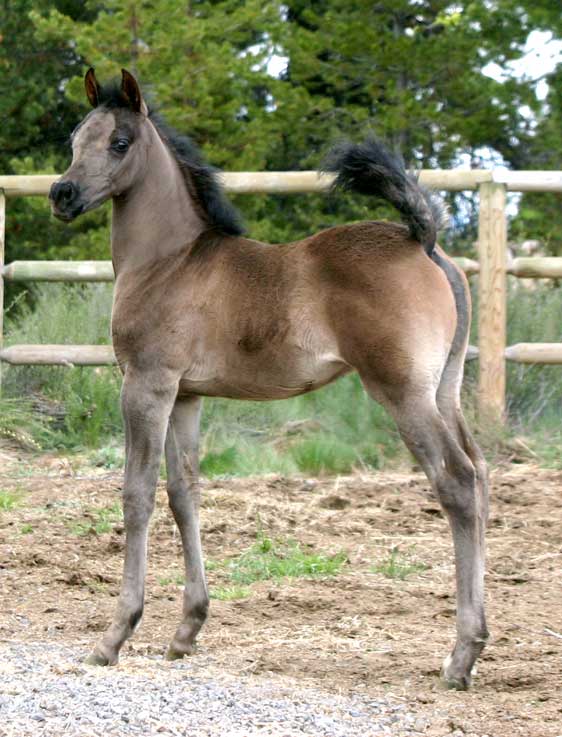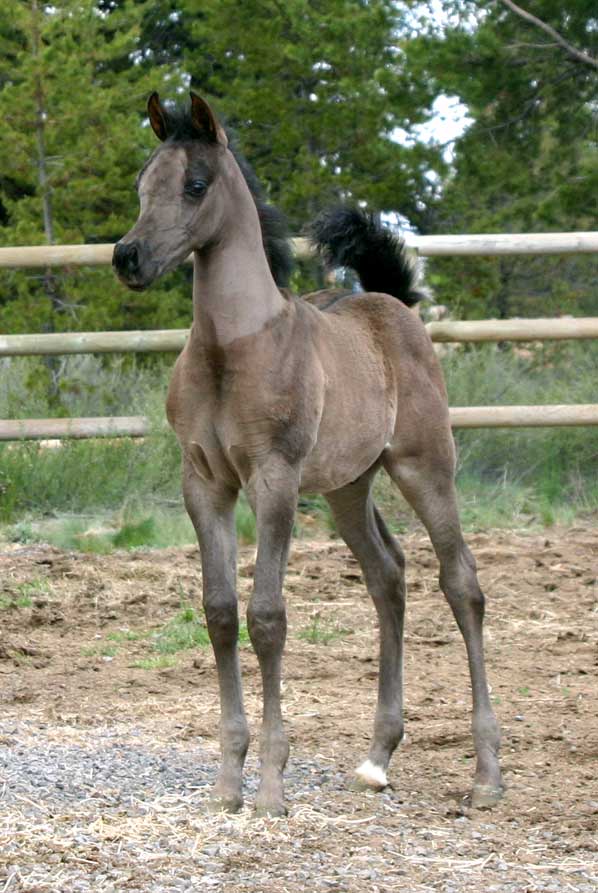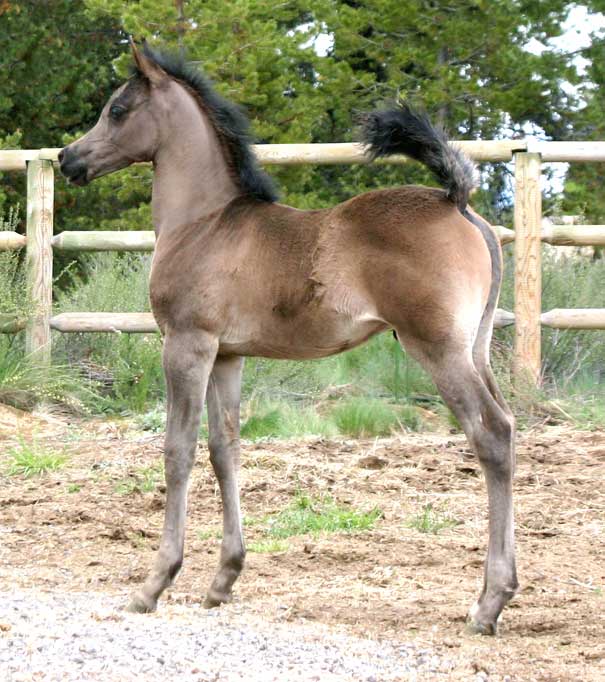 photos taken 4-28-08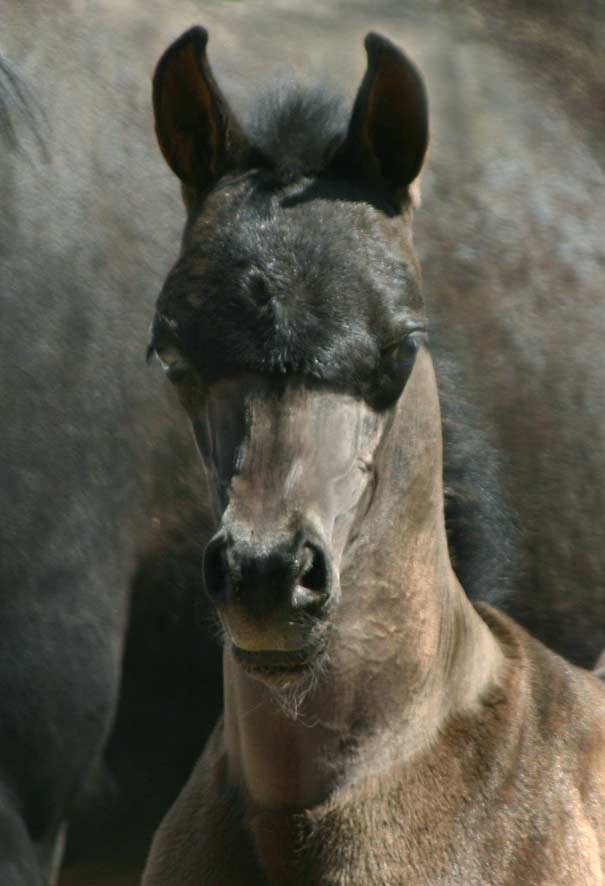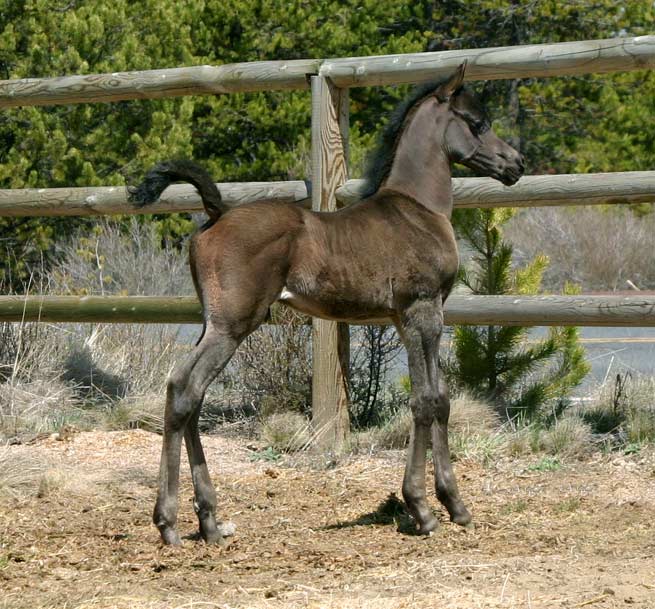 Tiberius BP
Black Colt born 5-3-07
pfc Trevallon X Jafars Shania (Ravvens Jafar)


Sold




This colt is out of a gorgeous homozygous black Jafar daughter. He is the full brother to Tristin BP and Triton BP. His head is very exotic with small tight-set ears. His neck is set very upright, with a beautiful hook in the throatlatch. His body is very smooth, he is short backed with a long strong hip and level topline. He has correct legs and feet. I have taken Tiberius on as a personal project. He has the personality of his sire and enjoys pleasing you, with a great willing personality. He clips, ties, trailers and loves to work. He is in great condition and very mature for his age. He will easily mature at well over 15 hands tall.





Photo taken 6-16-09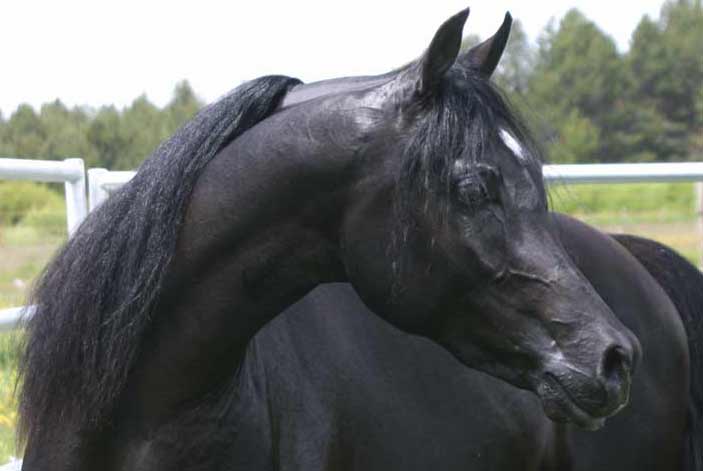 shown here at 8 weeks old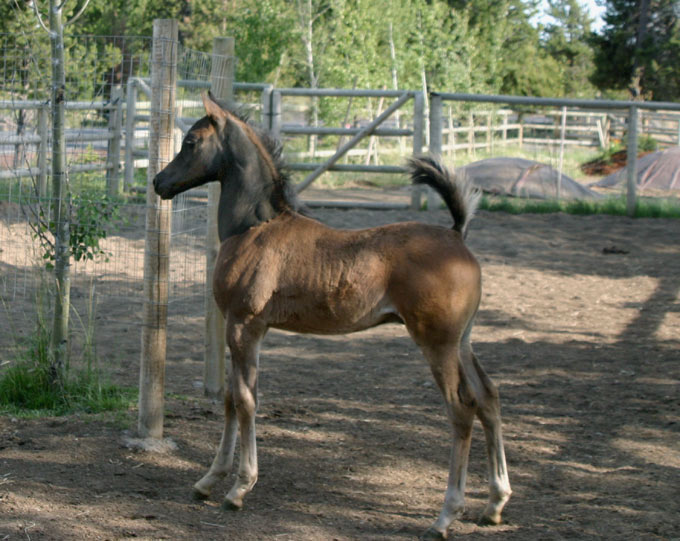 at 5 weeks old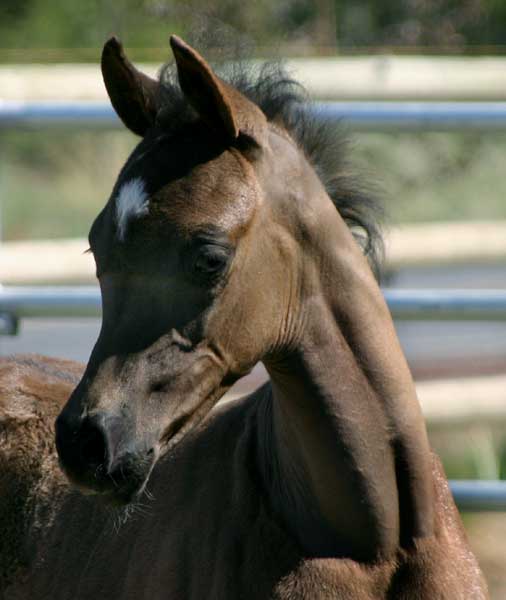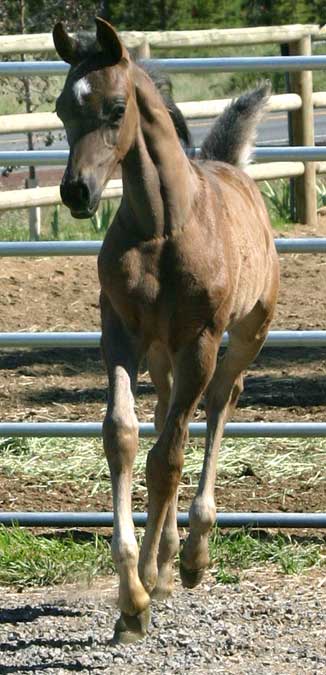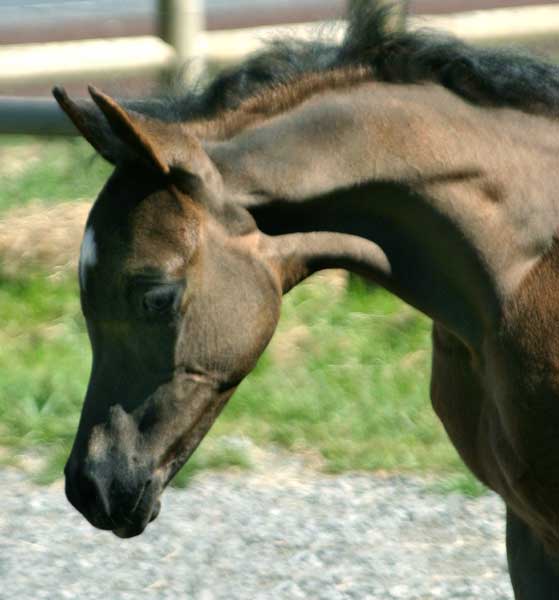 at 2 weeks old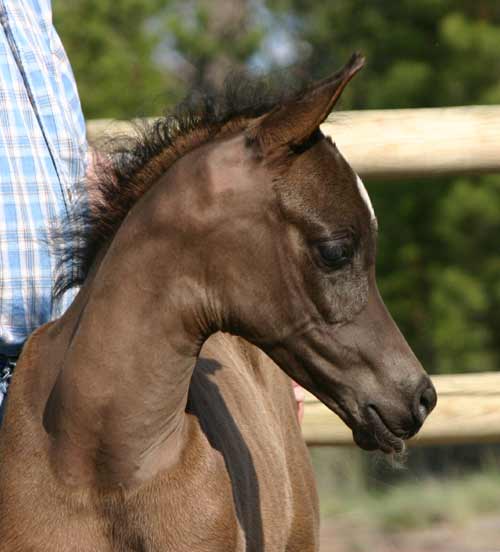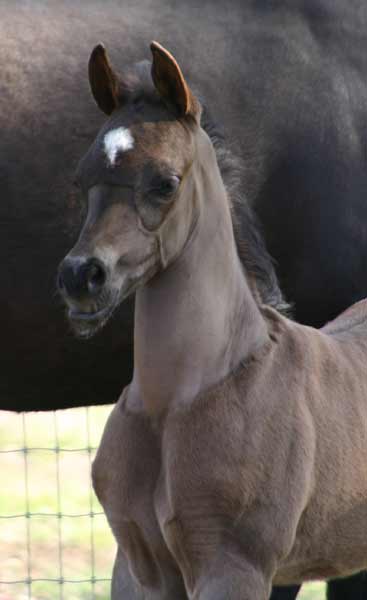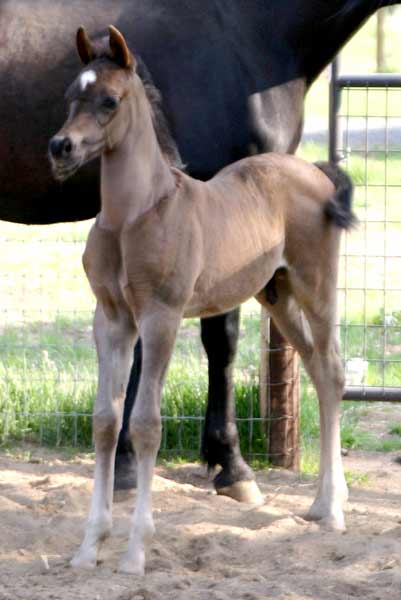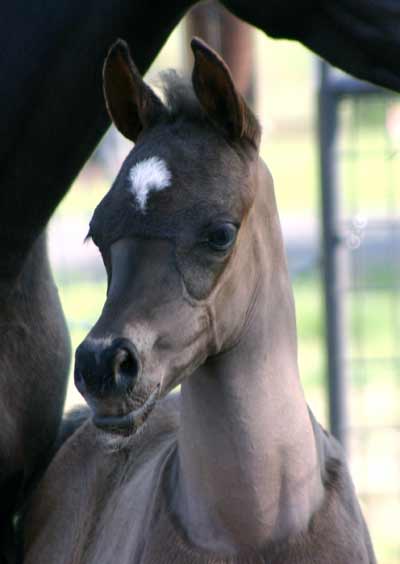 Ravvens Jafar, Grandsire of Tiberius BP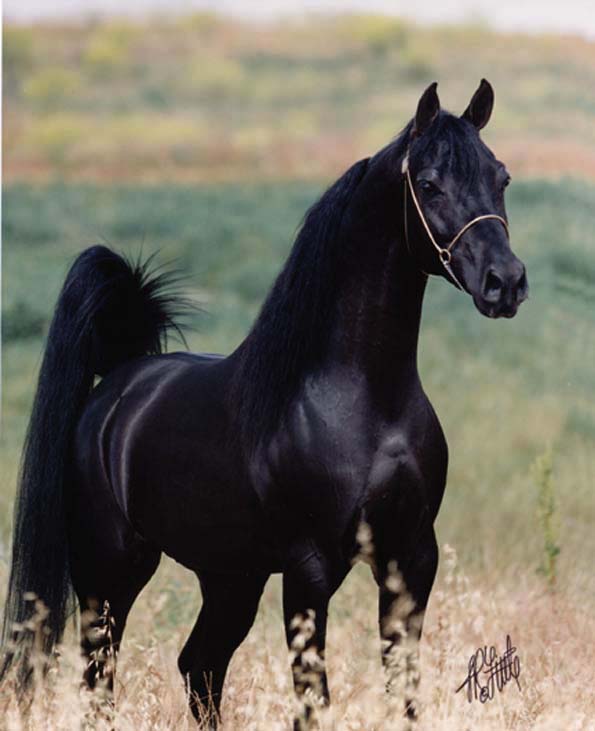 BLA Travis
born 4-17-09
pfc Trevallon X Jafars Shania (Ravvens Jafar)
This black colt may be the last of an incredible series of full siblings. He was born in Sweden for our friend Kathleen who now owns Shania. He is a full brother to TristinBP, Tiberius BP and Triton BP. He has been named BLA Travis.
SOLD to Slovakia

Photo from Angels Gardens in Slovakia in Jan 2013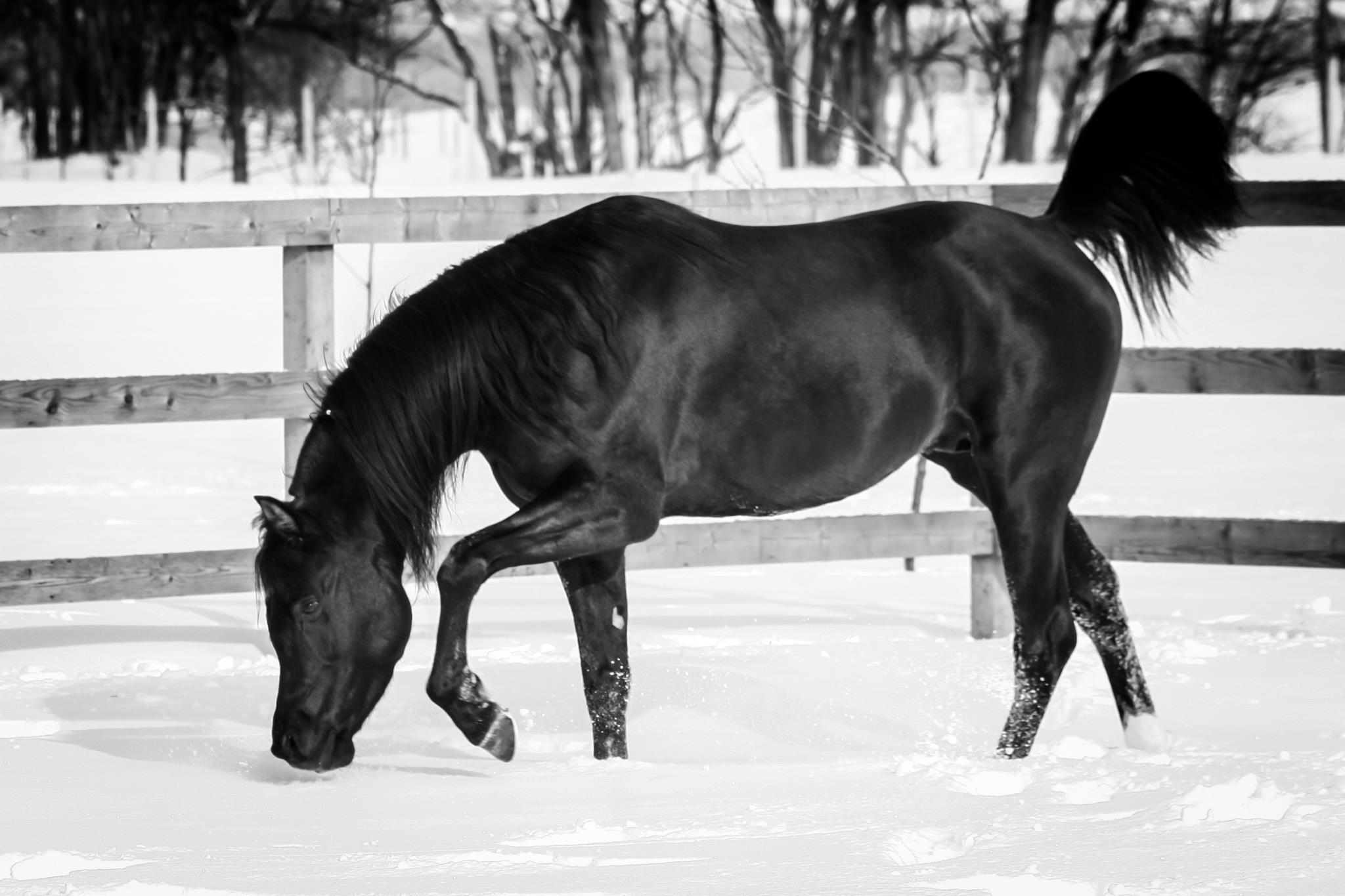 Photo from 2011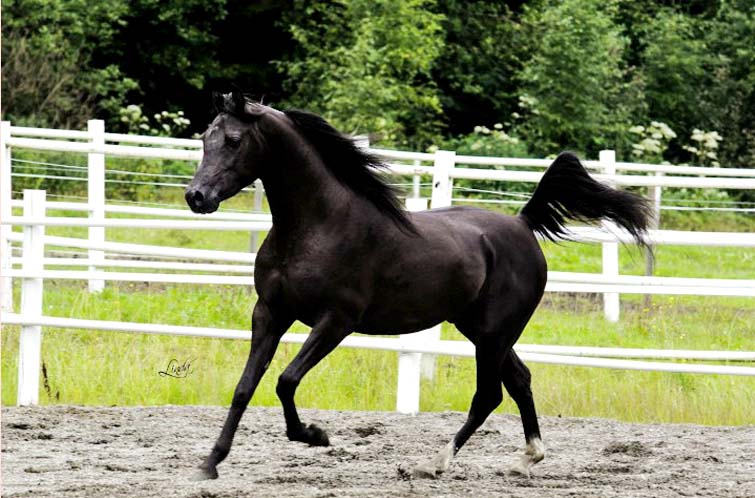 Photos taken 4-24-09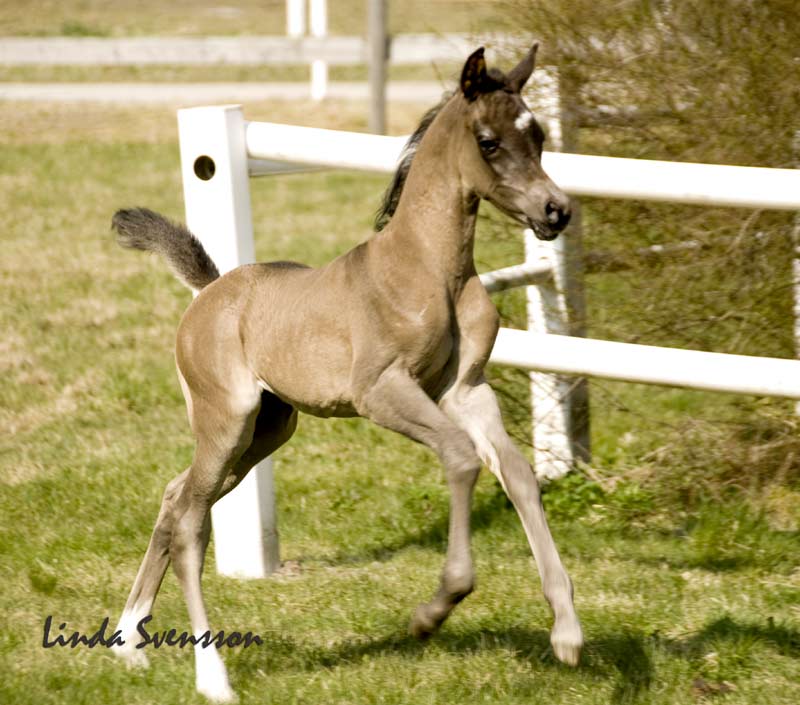 Photos Taken 4-19-09 at 1 day old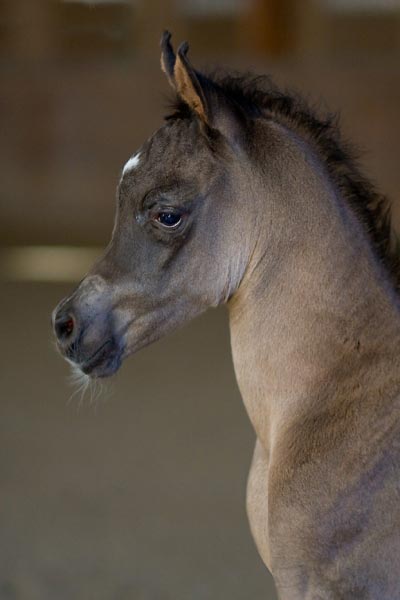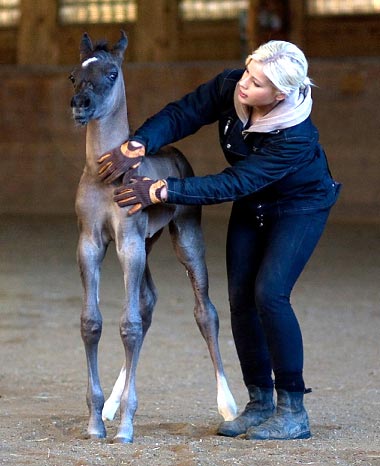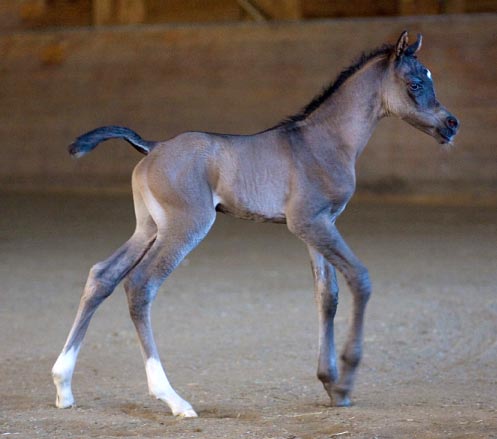 Jafars Shania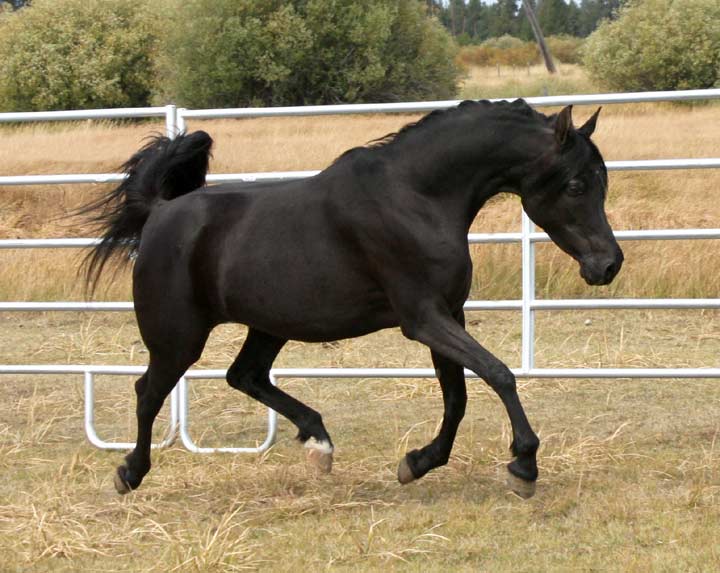 2005 Grey Filly
Trevallon X Jafars Jyselle (Jafar x Fadjur dtr.)
Available for sale!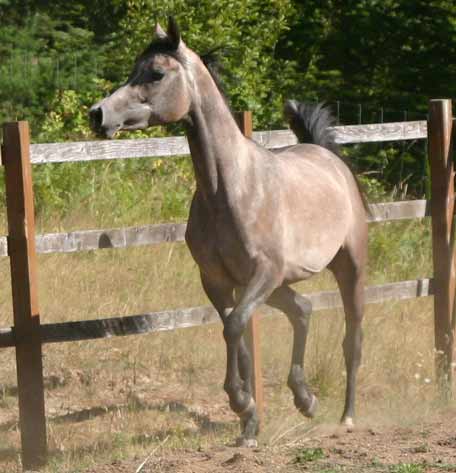 Shown here at 2 years old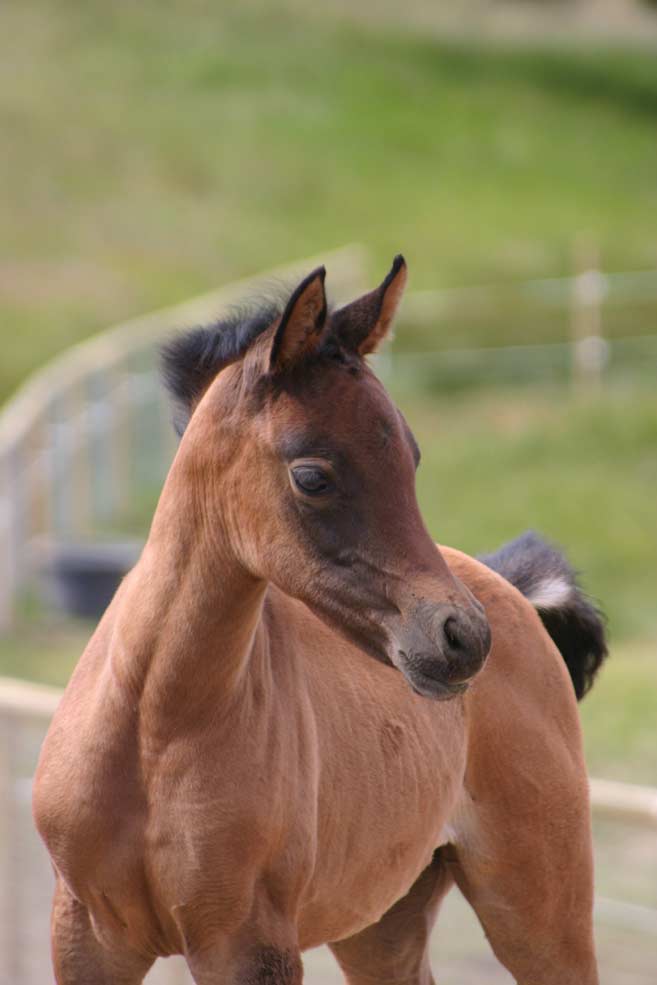 As a baby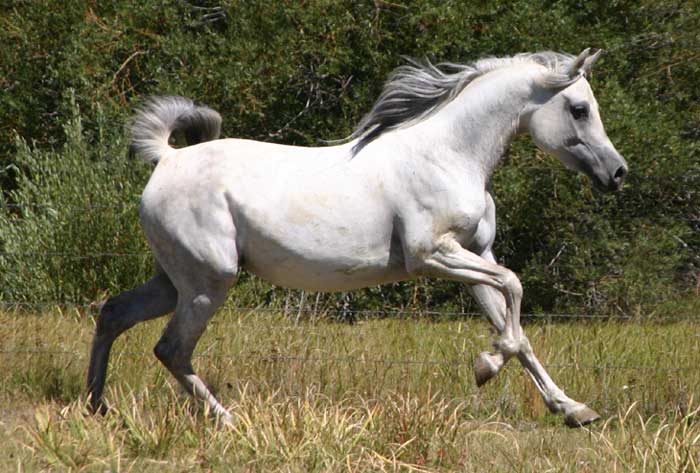 Jafars Jyselle, a Jafar daughter and a Fadjur grandaughter



Trevs Kornelia
born 3-2-08
pfc Trevallon X CG Kalani (Ravvens Jafar)
This solid black filly is out of a homozygous black Jafar daughter and by pfc Trevallon.
Her head is exotic, she has a long upright neck and a beautiful body. She demands
and deserves the attention of all who see her. She may well be the most beautiful
filly Trevallon has produced yet.


SOLD to Sweden




Kornelia was shown in her first show in Europe where she was placed in the Top Five with her new owner Kathleen. Congratulations!!

Photos 5-25-2009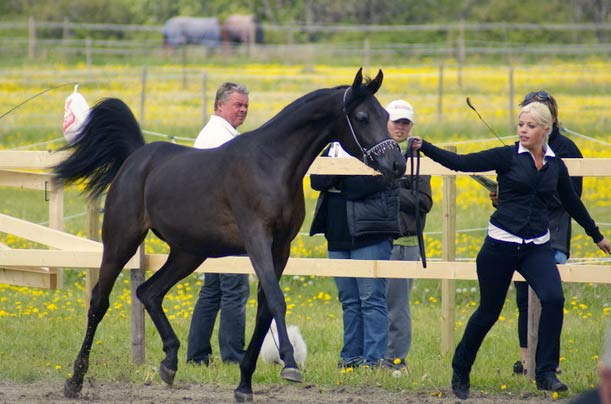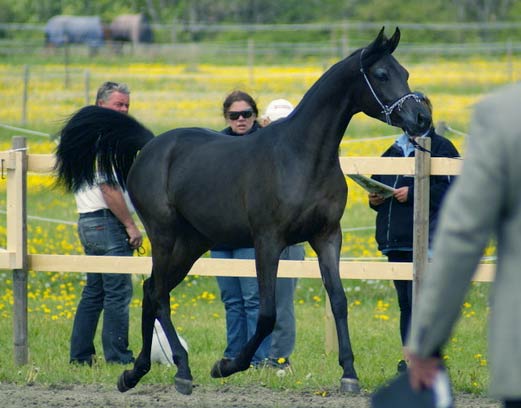 photo taken 3-20-08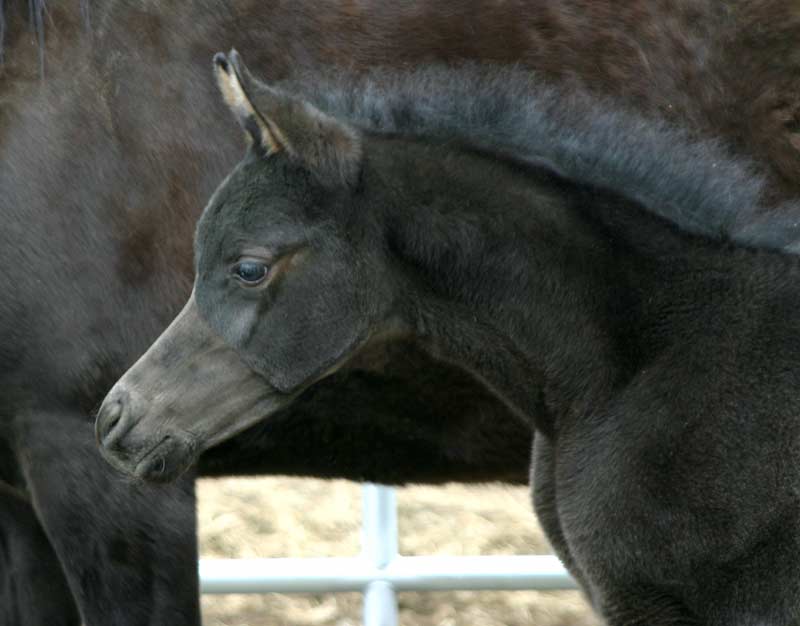 photo taken 3-8-08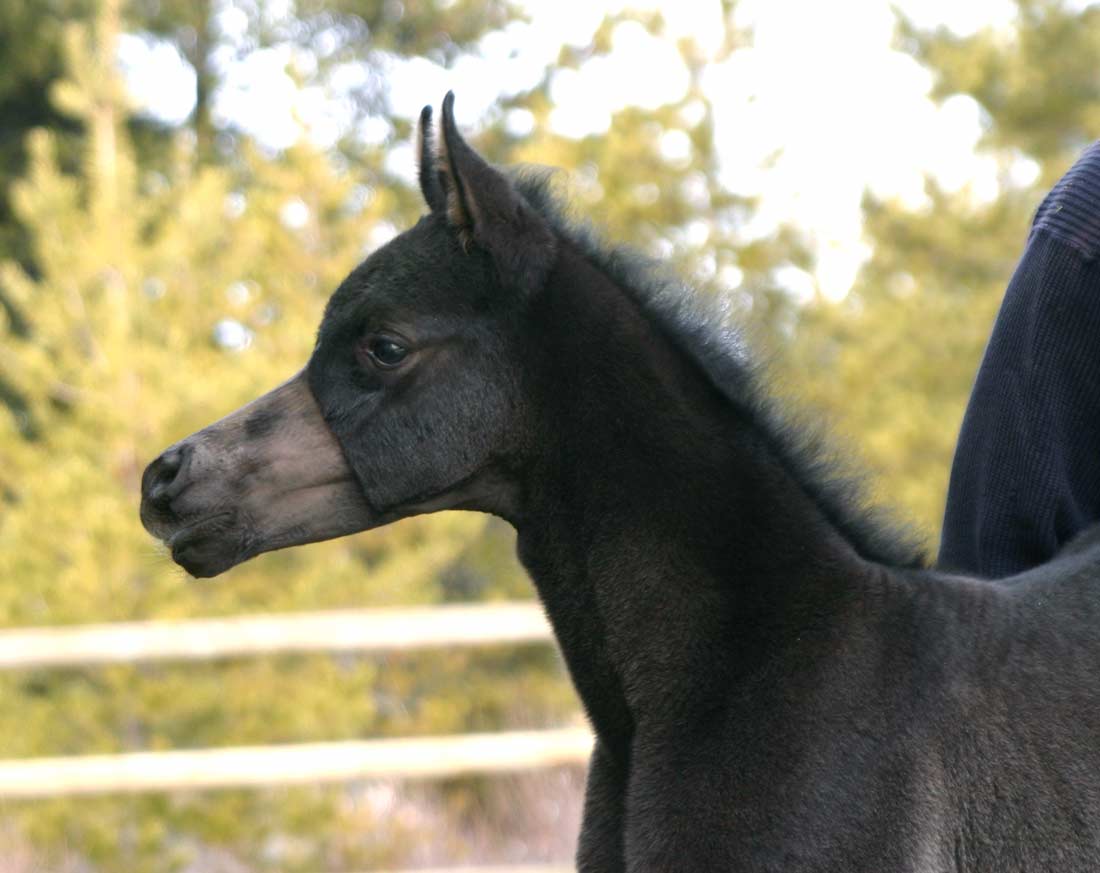 <>



Trevs Jasmine
pfc Trevallon X Jafars Shania
IFT Dreamcatcher SMF for 2009


SOLD - Exported to Sweden




This 2004 Homozygous Black Mare is a full sister to Tristin BP and Tiberius BP. Jasmine is perhaps the most beautiful black mare we have bred or ever seen. Her incredible type, exotic head and long upright slinky neck make her the phenomonal mare that she has become.


Photos taken 4-26-08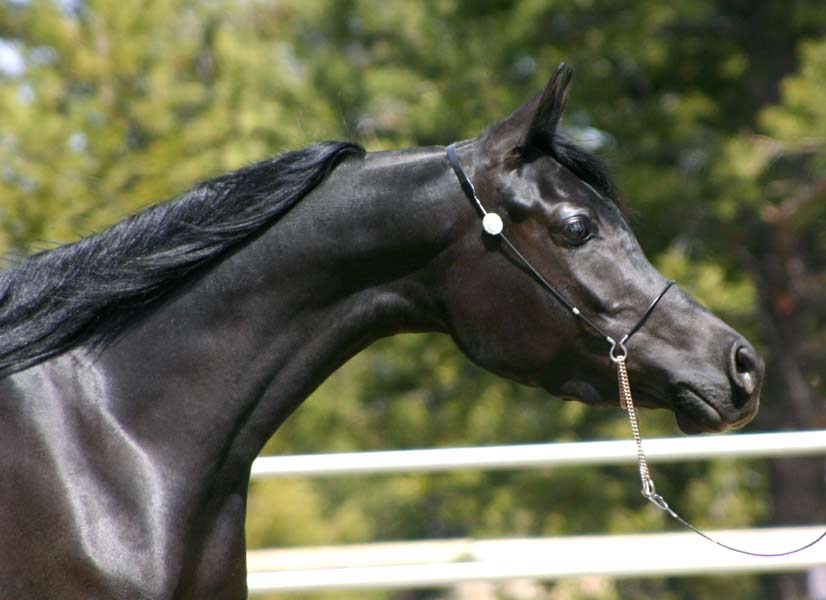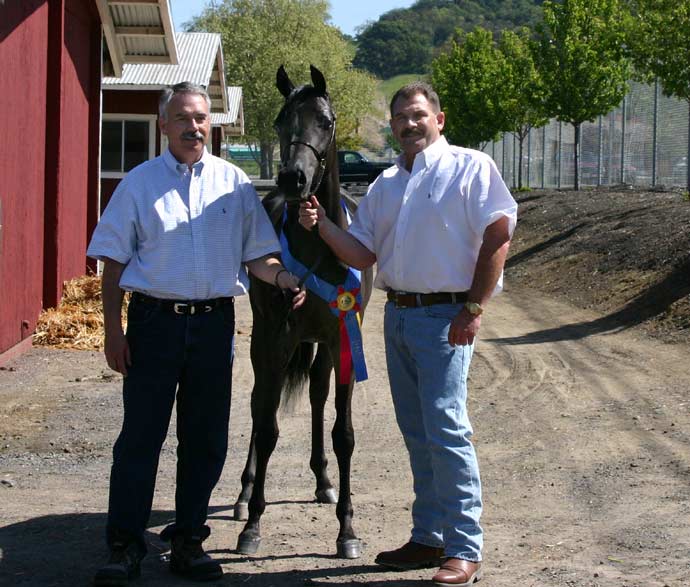 as a baby.....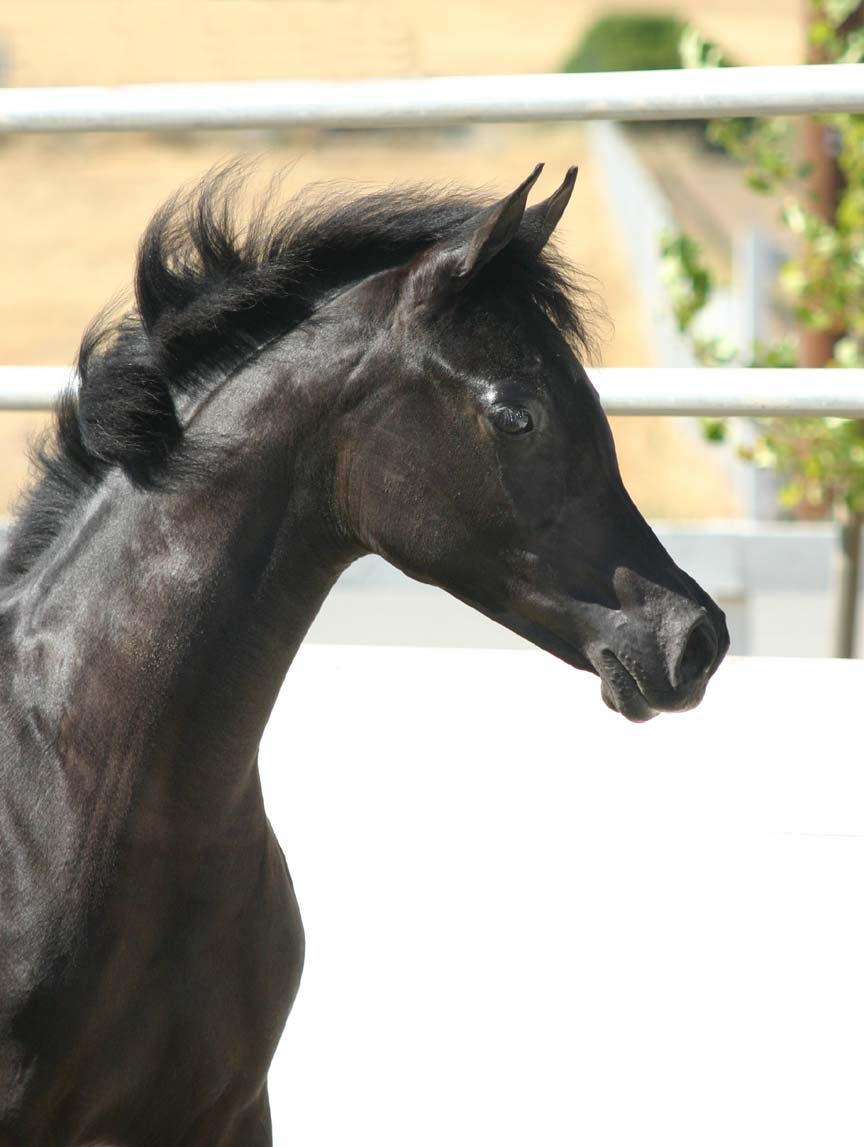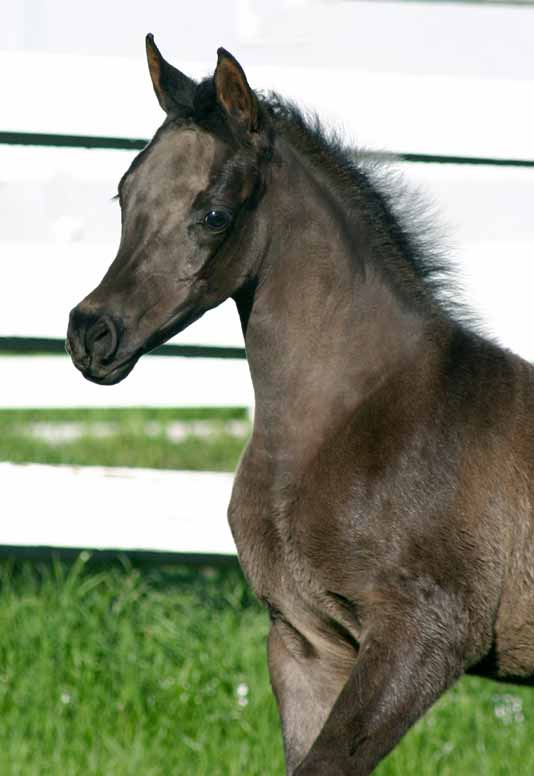 2005 Black Colt
Trevs Huron
Trevallon X CG Kalani (Jafar)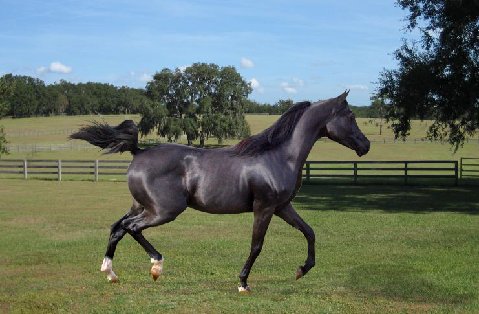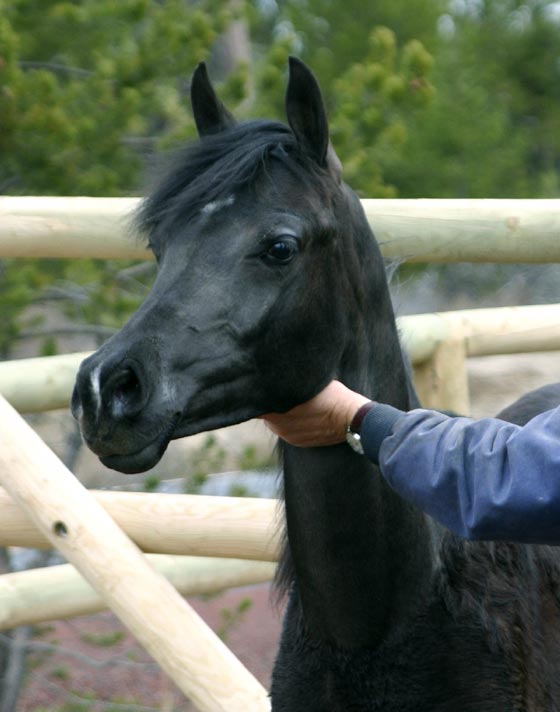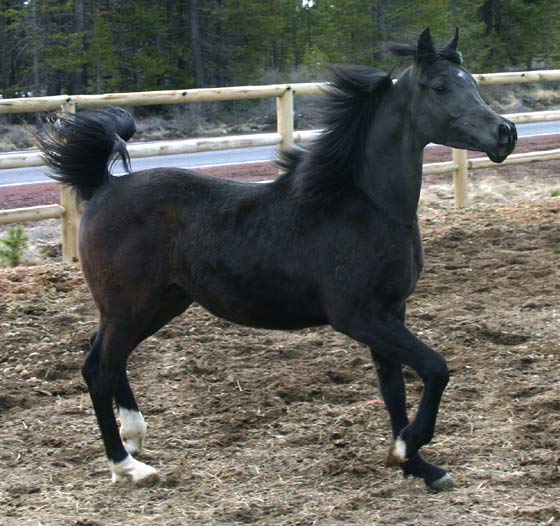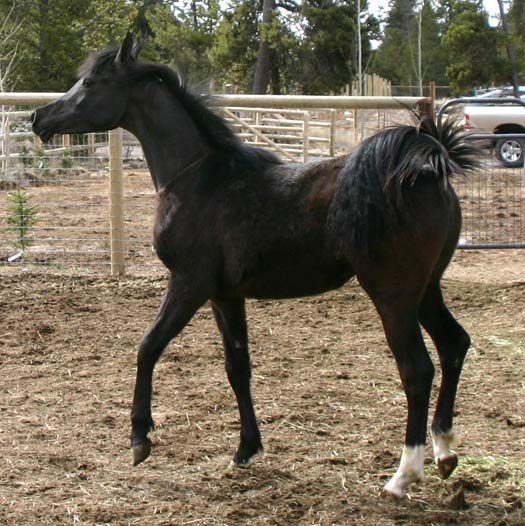 Trevs Onyx
(Trev X CG Kalani [by Ravvens Jafar])
2004 Solid Black Filly
shown here at 7 and 3 months and 7 and 3 days old
Being retained.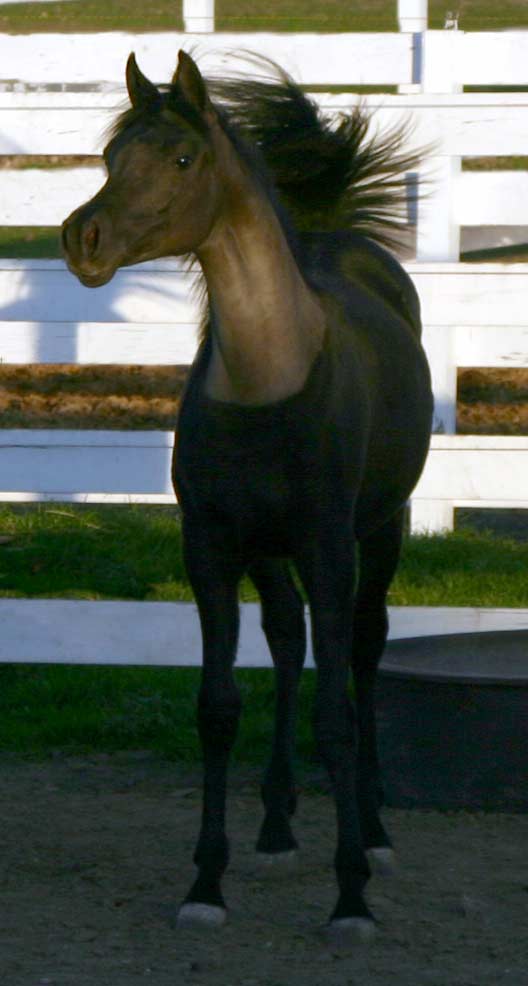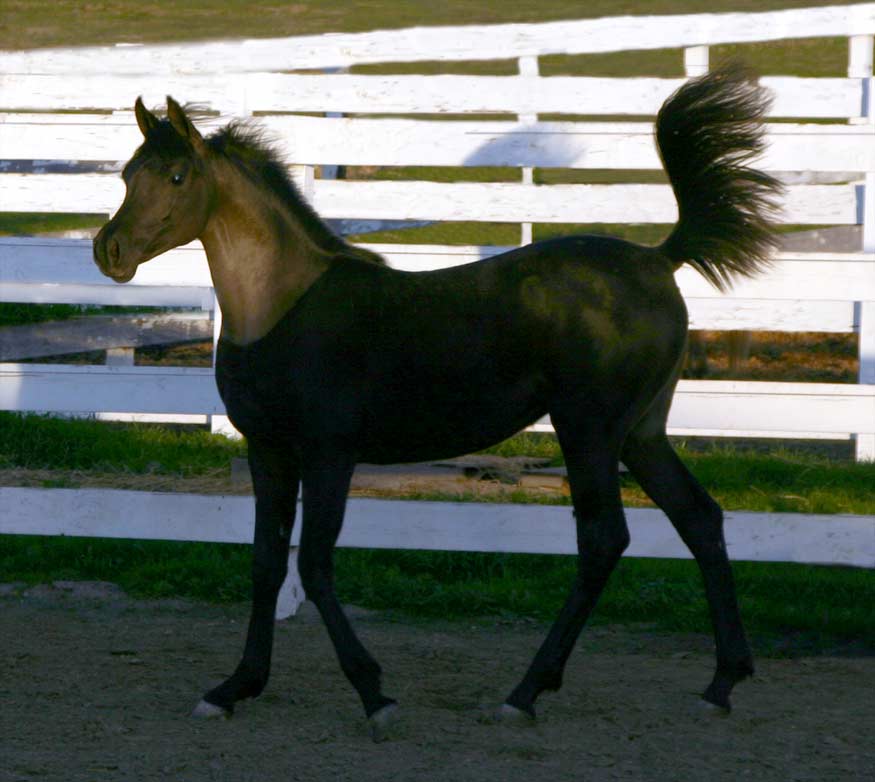 at 3 days old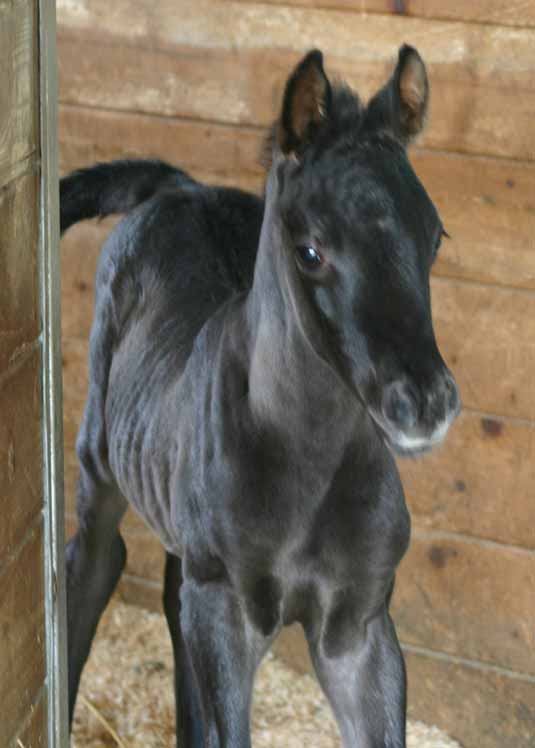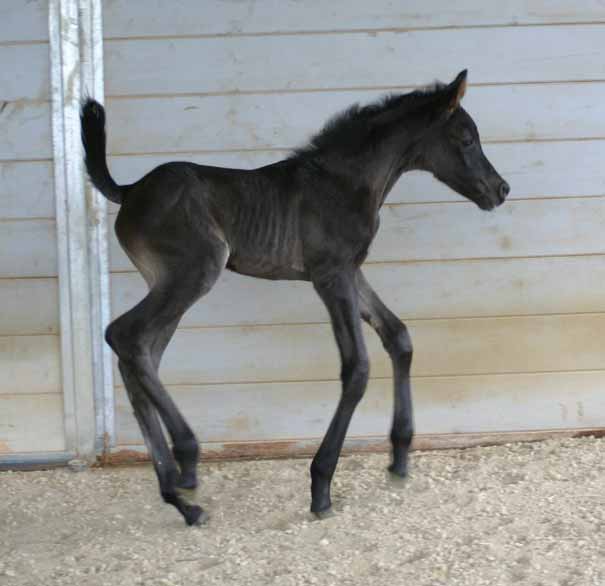 Trevs Jewell
2004 Region IV Top Five, 2006 Canadian National Top Ten Futurity Mare
and 2007 Scottsdale Top Ten 4 Year Old Mare!!

pfc TREVALLON X Beau's Dancer (NV Beau Bey)
Black filly, born 4-23-03
Sold to Europe

Top Four at Regiov IV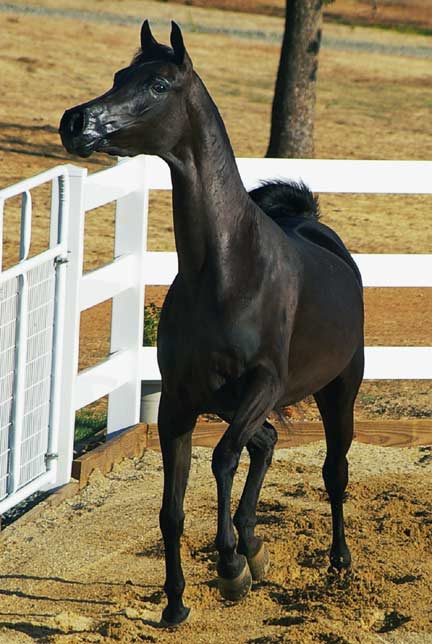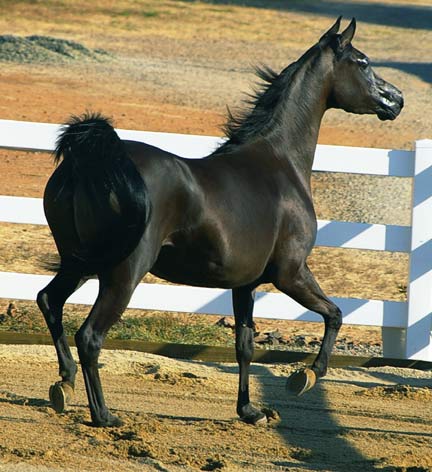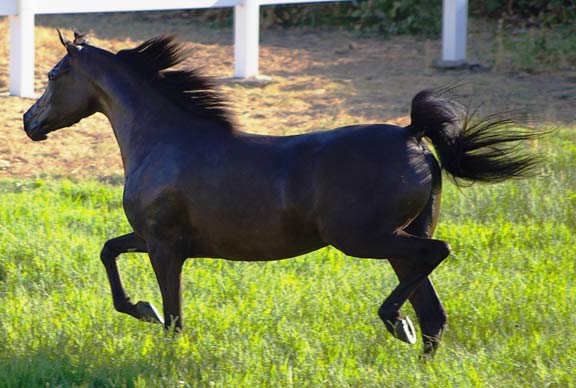 shown here at 11 months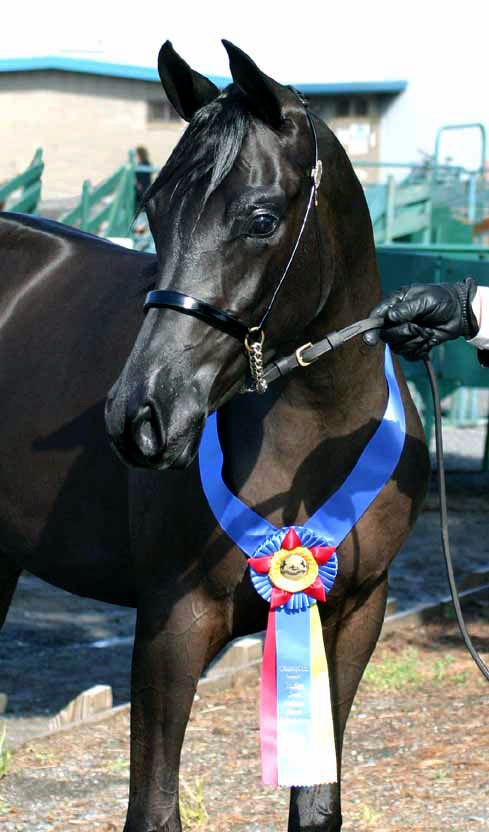 <>

at 4 months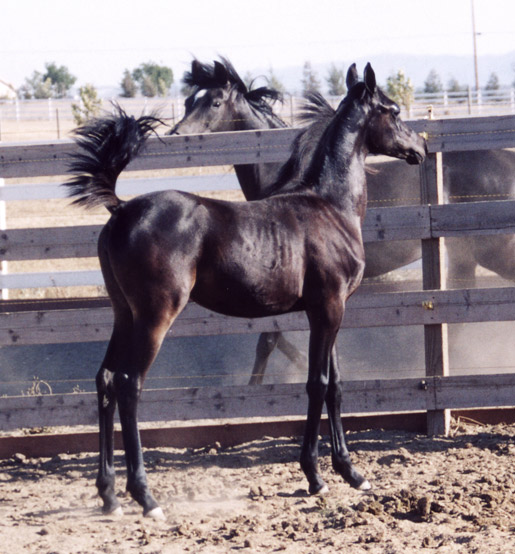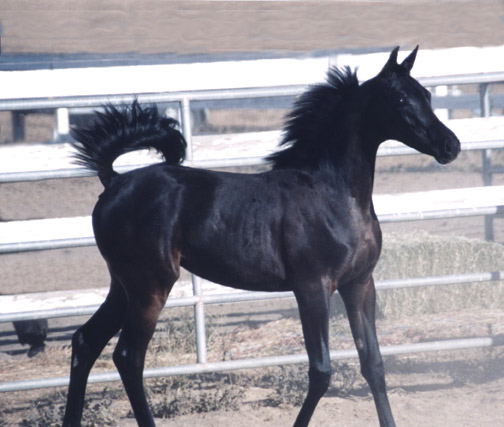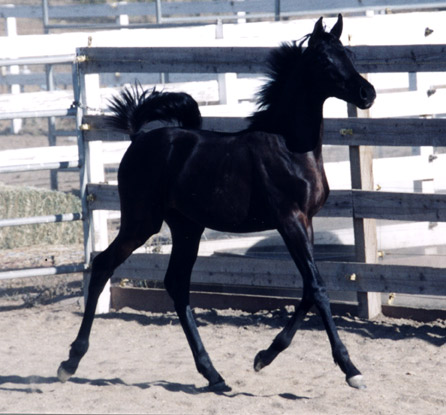 Trevs Chantel
2010 Black Filly
Beautiful BLACK Filly by Trevallon
and out of CG Kalani (by Ravvens Jafar)
Born 5-8-10
see her video here!

SOLD to Nancy and Stan of California

This exceptional filly has great presence, type and confirmation. She has great movement and is extremely friendly.
She is one of Trevallon's best daughters. Trevallon gave us the best gift of all before he left us, a look-alike filly.
Her eyes and the shape of her face are exact copies of her fathers.


Photo from 10-21-10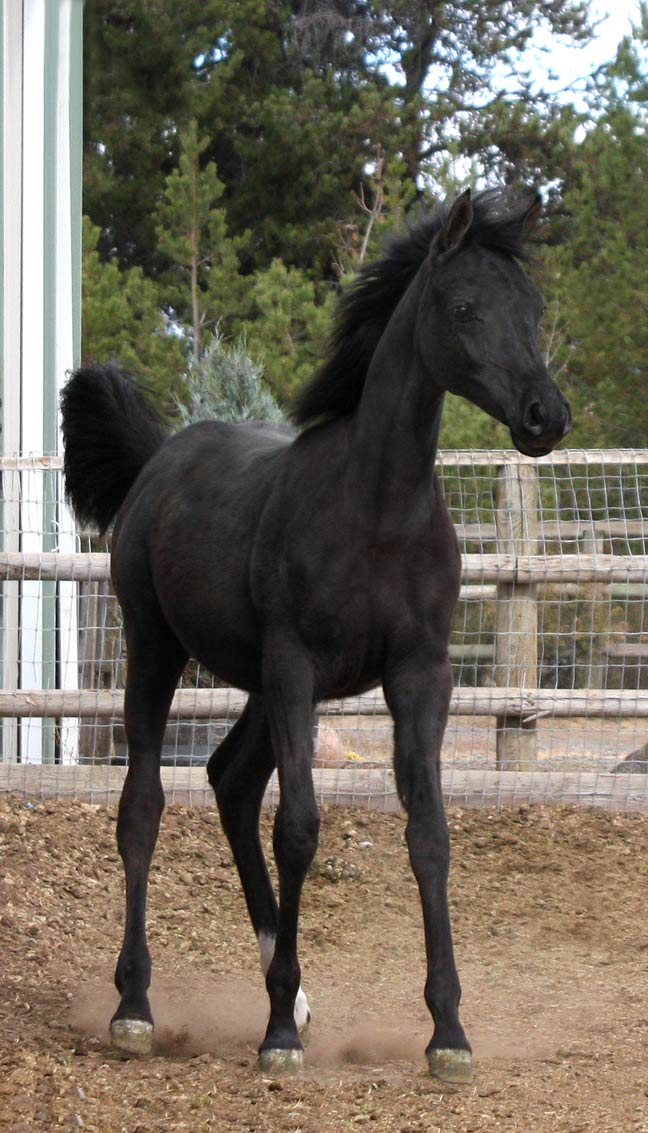 Photos from 8-16-10